Racked Out is best known for being a complete turnkey service provider of a broad range of warehouse storage and safety solutions, not to mention preventative and emergency maintenance services. That said, we also have a service whereby we design and install modular tenant storage lockers for apartment and condo buildings. Today we're going to talk about this service, demand for which is steadily growing.
Storing bulky items at apartment and condo buildings
Many apartment and condo buildings have little to no storage space for tenants, compromising their livability. Tenants seeking to store items that they don't use on a regular basis—things like skis, for example—have the option of storing them in their apartment or condo unit—and thereby cluttering it up—or taking them to an off-site storage facility, which is inconvenient and expensive. Neither option meets tenant needs.
Monetizing unused space at apartment and condo buildings
Fortunately, many apartment and condo buildings have at least one odd space that can't be used as an apartment or condo unit and is thus underutilized. Take the room in the photo below, which is below grade in a condo building and thus has no windows. It's also near mechanical rooms, making it a bit noisy. Despite being spacious, it's no place to live! Management of the building was seeking to monetize the space and contacted us about putting in rental lockers for condo owners. Tenants were delighted at the prospect and we were happy to oblige.
Racked Out's tenant locker storage system
Racked Out carefully measured the room and came up with a design allowing for the installation of 33 lockers made up of framed 2″x 2″ x 10-gauge welded wire mesh that's bolted together with a mesh roof.  They're rugged, single-tier walk-in units built to last a lifetime. The doors have padlock hasps to allow tenants to secure contents with their own locks. The lockers are quick and easy to assemble and the open design provides good ventilation, clear, unobstructed views of contents and excellent access so that fire suppression systems can function effectively throughout the storage area.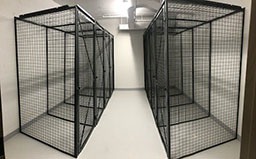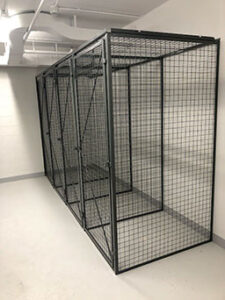 Great return on investment (ROI)
The lockers are now an amenity much-valued by both tenants and building management alike. Tenants love the additional storage—and management loves the cash flow! Assuming an average rent of $50 per locker per month, this room could generate an estimated $1,650 per month—not bad for a space that would otherwise have been largely unused. At $50 per locker per month, the ROI for a locker system like this one is a mere two years.
Contact
If your condo or apartment building lacks adequate storage facilities for tenants and you've got some unused space, it behooves you to contact us at Racked Out to see how we can help. We're experienced and friendly and would be more than happy to discuss your situation, take some measurements and quickly come up with a space-efficient, cost-effective and plan. Please click here to reach out and get the ball rolling.