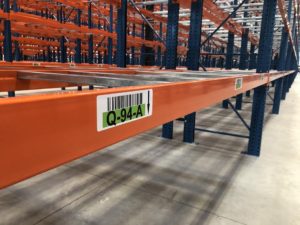 A labeled warehouse is an organized warehouse. Having a bin location system in place, with bins clearly labeled and identified, is necessary for any successful warehouse storage solution.
Labeling is a must if you want to manage your inventory, ensuring accuracy when receiving and picking your product. Whether running a cross-docking operation, 3PL, or general distribution and storage, bin labeling is essential for your operations.
Racked Out will work with end users to design a bin location system that suits their needs. We also create all of our labels in-house to our users' specifications. We offer a number of print substrates, from plain stickers, to magnets, to corrugated backing. Labels can even be printed on plain or retro-reflective material.
Why wait until after your racking is up to affix your labels? Why not be up and running as soon as your last anchor is tightened? Racked Out will design and print your labels with rapid turnaround times. Let Racked Out label your warehouse as we're building it, and don't miss a beat!