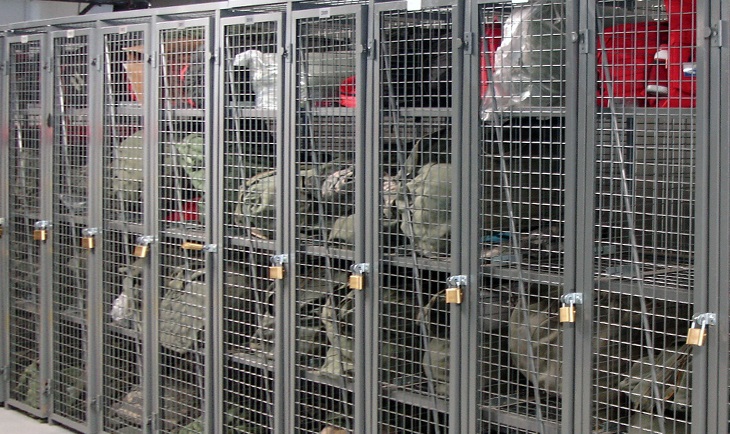 Storage lockers are an essential component of your manufacturing or distribution business' warehouse. Company employees may need changerooms, and equipment or products across the storage facility may need to be kept safely guarded in locked containment areas. In both cases, there's a considerable need for lockers to support the overall warehouse function and flow.
When choosing lockers for your organization, consider what type of locker you need. Plated and wire mesh lockers are the most common types, with many unique locker styles available for each.
While plated lockers offer the most privacy and are more suitable for employee changing rooms, wire mesh lockers enable more airflow and help prevent odours. Likewise, wire mesh options are well-suited for storage areas where employees want to see the contents prior to unlocking, but plated options may be easier to label and overcome the need to see actual objects inside first.
Plated Lockers: Privacy and Customization Options
Most widely-installed lockers are plated. As the industry standard for schools, gyms, and industrial users, plated locker design options are quite extensive and can cover a variety of applications. Depending on the contents needing to be stored within the locker, designs can be incredibly simplistic or relatively complex. This includes lockers with one door and mostly empty space, to lock-up boxes with different size doors and containment areas within a single unit.
Canadian-made ALB Plus lockers and storage cabinets are perfect for company changing rooms and other areas where the privacy of locker contents is required.
Some design options for ALB Plus standard and specialty lockers include:
A Series Lockers: These lockers are extremely durable and come with a wide recessed handle for use of a padlock. Lightweight and pre-assembled, these units are ideal for fast setup of reliable plated locker systems.
C Lockers: Offer a functional design to meet most applications and are perfect for company changing rooms. Its double panel door and polypropylene handle with sound deadening retention offer a durable solution.
E Delta Lockers: When a regular locker just won't do, this robust and contemporary locker is perfect for the job. It has a double panel door and is ventilated at the top and bottom. Full width top and bottom door strike with polyethelene door bumpers riveted into place. Comes with stainless steel pocket with door retention.
D Dura Lockers: Truly a durable locker for years of heavy-duty use. Designers will appreciate the attractive full length 18-gauge handle, top and bottom door stop with a magnet and an 11-gauge padlock welded to the frame.
Gear Lockers: Available in either open or closed-front, these lockers enable team members to keep their equipment secure and well ventilated. From athletic teams to emergency personnel and even industrial users, gear lockers can accommodate a wide variety of gear or apparel.
Wire Mesh Lockers: Transparency and Simplicity
While there are generally fewer uses for wire mesh lockers than standard plated lockers, they offer unique advantages that make them the best option for some applications. In warehouses, wire mesh lockers often restrict access to expensive or dangerous materials that not everybody should have access to. While it can be helpful to see inside prior to unlocking, generally these lockers denote "no access" areas for certain staff unless they have the training or security clearance to proceed. Of course, wire mesh lockers can also be used for employee gear where maximum ventilation is required.
Cogan Wire & Metal Products Ltd. is a North American leader in manufacturing wire mesh lockers. They supply manufacturers and other markets like tenant storage with superior wear-resistant materials needed for optimized wire mesh locker deployment.
Some configuration options for Cogan products include:
Single/Double Tier Tenant Storage Lockers: For use in condo buildings and other high-volume spaces where storage is at a premium, these enable users to identify and access the items needed with considerable efficiency.
Hanging Tenant Storage Lockers: Not enough space to dedicate locker storage areas for tenants? Hanging storage lockers can transform your garage into an effective storage area. With lockers located above parking spots, it makes the most out of otherwise wasted space.
Industrial Storage Lockers: Big, small or anywhere in between, wire mesh storage lockers for industrial users can be well-customized to suit your storage needs.
TA-50 Gear Lockers: Taking industrial storage lockers to the next level, these gear lockers are robust, rugged and resilient. Its raised support legs also provide protection over flooding and water damage.
Discover Plated and Wire Mesh Lockers for Your Warehouse
Want to discuss your options for either plated metal or wire mesh lockers? It can be difficult to assess all of your options to figure out what works best for your team, your workflow, and your budget. Talking to an experienced team of warehouse racking and storage solutions experts can help to quickly narrow down your options and create a winning plan.
To learn more about industrial locker solutions and establish what your business needs to optimize its space, please contact Racked Out.