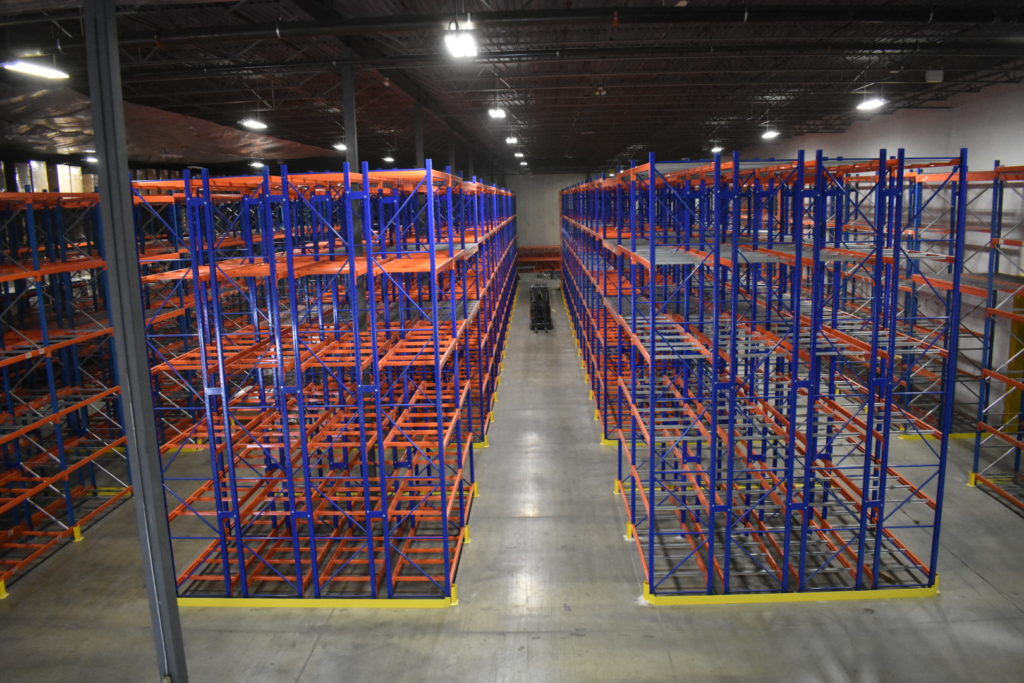 When consulting companies across Canada about deploying custom warehouse racking and storage solutions, we constantly hear that the optimization of space is the most important factor. Businesses that carry stock and are constantly shipping product need to ensure that the solutions they're deploying will help save money, increase productivity, and be efficient enough that it won't need to be reconfigured anytime in the near future.
High-density warehouse racking and storage solutions, such as double-deep, push back and pallet flow systems, help to achieve a cost-effective plan in most cases. Choosing a high-density option is a great choice to support new builds or replace old, less efficient spaces. However, it can be difficult sometimes to choose between these three options when determining the optimal fit for your facility.
Consider the racking and storage systems identified in this article, noting the similarities and differences of each. Some companies may choose one solution over the others, while some other businesses may wish to deploy a range of solutions to cover a range of products or internal shipping processes.
High-Density Warehouse Racking and Storage Solutions: Top 3 Options
While it's important to contact a professional racking and storage team to consult you on an upcoming project, there are generally a few options to consider. These high-density systems are designed to support maximum storage capacity and warehouse efficiency:
Double-Deep: Double-deep racking systems offers more storage than single selective racking systems by reducing the number of aisles required. Not only is density greatly increased so are the number of pick faces available.
Push Back: Push back racking solutions are constructed on a gentle slope upward from the pick face. Pallets rest on a cart system so as new pallets are added those already in are pushed back further. It can be made up to six lanes deep with interlocking systems to deter jamming. This is well-suited to Last-In-First-Out or First-In-First-Out if oldest lanes empty first.
Pallet Flow: With pallet flow racking systems, gravity-driven conveyors are used to load pallets on one side and off-load on the opposing side. Its racks are structured with pallet lanes on a slight decline creating a load side and a pick side. Pallet lanes in addition to the standard static racking contain roll tracks with either wheels or full-width roller bars. It's well-suited to a First-In-First-Out inventory control system.
Contact Racked Out to Discuss Your Upcoming Warehouse Design or Build
Want to learn more about high-density warehouse racking solutions? Our team embraces each opportunity to discuss potential design and build projects from companies in a variety of sectors from manufacturing to shipping and logistics and more. Let our knowledgeable and experienced team find the best fit for your organization and oversee the process each step of the way.
Ready to learn more? Contact Racked Out or view our recent project profiles.