Cogan has been in the Storage and Material Handling business for over 100 years. They specialize in  manufacturing guardrails, Mezzanines and Cantilever Racking, but also have carved a niche in the guardrail, safety rail and post protection business. They offer three main lines of rack and people protection:
This article will concentrate on Cogan guardrails and how important they are to protect your assets.
Cogan guardrail safety barriers are ideal protection for valuable machinery, rack-aisle ends, back-of-racking, inventory areas and loading docks. Additionally the protect mezzanines, heating and cooling equipment, electrical panels, and computer control centers. Cogan guardrails direct traffic in your warehouse and increase safety, efficiency and productivity.
Cogan heavy-duty guardrail barriers are available in a variety of lengths with single and double-rail options. Custom lengths are also available. The guardrails are manufactured from the highest quality materials, are strong, adaptable and – when properly installed – engineered to withstand a 10,000-lb impact at 4 mph.
Cogan guardrails provide maximum visibility due to their bright colours and can also be used to separate various areas within the warehouse and therefore enhancing productivity.
Install a Cogan guardrail system and stop accidents immediately. Simple to assemble, Cogan guardrail solutions reduce costly installation charges and interruptions.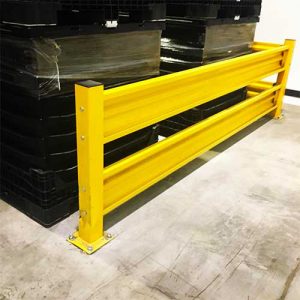 Racked Out installed guardrails are necessary for a safer, more efficient, and more effective warehouse storage facility. For more details, visit our website or give us a call at 647-478-0622 and speak to Jenna about our Cogan Guardrails.