Corporate Dealings vs. Small Business
It's no secret that dealing with a big corporation can be very different from dealing with a small business. 9/10 times, doing business with a small business is more enjoyable than dealing with a huge corporation that has millions of other customers.
When dealing with a small business like Racked Out, our main priority is to make our customers feel important. We want you to feel heard which can be hard to find at other companies. With only a handful of us in the office, you will always be dealing with someone close to the owner of Racked Out, if not the owner herself.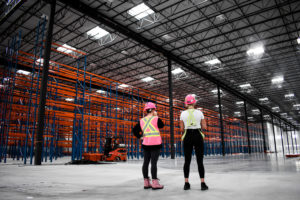 Hands On Work
One of the perks of being a smaller business is that our CEO, Jenna Brooks, is able to be hands on in every aspect of the business, whether it's office work or on a job site. The connection between our CEO and customers remains consistent throughout the entire business relationship, and is one of the many reasons we have repeat clients. Being able to call our CEO at any time throughout a project, whether it's to ask for job updates or discuss any issues that pop up, is one of the biggest perks of hiring Racked Out for a job. There is no middle man between you and our CEO.
When hiring such a big job, it's important that you feel involved in the process, and not like you're just observing from the outside. From being involved in the design, all the way to the installation, and every step in between, as a small business we promise that you will remain in the loop, and our relationship with you will be strong every step of the way.