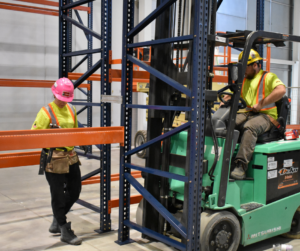 Own a warehouse? Manage a warehouse? At some point, you've probably had to deal with racking systems, and it's likely you found a racking installation company to help you plan, design and install your system.

Did you know that racking companies frequently offer more than just installation services? Additional services that often fall under "installation" actually far surpass simple racking set up.

That's why today, we're taking a deeper dive into racking installation services. What are they? What do they actually do for your warehouse, and why might they be useful for you and your business?
 
If you manage a warehouse, or handle supply chain logistics, you probably already 
know a bit about warehouse racking, but let's start with the basics. 
What Is Racking?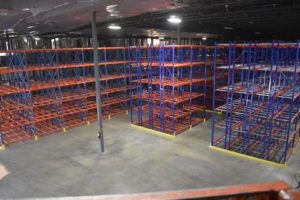 Racking systems, very simply, are the structures that hold your product. They come in a wide variety of styles, shapes, sizes and configurations to help maximize efficiency and workflow.

One of the biggest misconceptions in the racking system world is that a racking system is well- unchanging. But while they might seem like structures that are installed and left to function as is, in reality it is a lot more nuanced than that.

See your warehouse is a complex ecosystem, with your racking system playing a central role. The organizational processes used to optimize them, the structures and the materials used to make them- all directly affect the way the system operates. The product your warehouse moves, the conditions the product must be moved within, the timeline of production- all of these aspects are considered when creating and designing the ideal racking system.

Product or supply chain changes may mean that your racking needs releveling, or updating. Warehouse locations change too, as do the materials best suited for the racking systems. Further still, all racking systems will need occasional repairs and/or replacement, in order to address stress, strain, overloading or even collision damage.

If you're looking for racking installation, you'll want to look for a company with a wide variety of end-to-end services, ideal for long-term maintenance.

Why?

The fact is, when you know your Warehouse is an ever-evolving part of your company. You want to work with a company that can provide a diverse set of services to match your adapting needs. 
What Are The Best High Value Racking Services?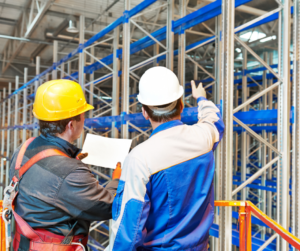 What sorts of installation services might a warehouse want to consider when upgrading or restructuring their racking system? What are they and why are they helpful?
New warehouse and storage facility layouts;
If you're opening a new warehouse- chances are you'll need a racking system installed.
Condensing and maximizing layout efficiency;
This is great for teams looking for ways to improve space and movement.
Converting part or all of your operation to very narrow aisle layouts;
VNA or Very Narrow Aisles boast a variety of advantages, including saving space and maximizing warehouse surface. And their compact design means a reduction in the steel needed to build them.
Develop site plans and consult on best work-flow operations;
If you've wondered if there is a way to optimize your warehouse or streamline your operations- this is a highly beneficial service!
Relocations often mean spaces that are better suited to your current needs, but tearing down, moving and rebuilding your system is a hassle. A company can provide end-to-end warehouse tear down and relocation services. This is also a perfect time to consider redesigning your warehouse to optimize its functionality.
Rack replacement tear down and erection services;

Rack replacement will happen. And when it does, an expert team can help you prep, plan and replace the necessary parts of your system. And erect the replacement pieces too!
Safety equipment consulting and installations;

Safety is paramount to every job, and warehousing and construction are no different. For full safety assessments, pre-start safety inspections and, safety optimization and protective equipment, you can contact a Racking Installation company skilled with warehousing safety measures.
Rapid repair services for racking structural issues, overload and collision damage;

This is a service that, much like an umbrella, you want to have just in case. Accidents happen even under the best of circumstances.
What Are the Best Racking Installation Companies?

Racked Out offers full turn-key solutions for warehouses- meaning we offer all the above services among others. But what is most important for a business looking to advance their warehouse racking system, is finding a company that works for your unique needs, and can provide you quality service, impeccable craftsmanship, and long-term care, for all your warehouses needs.

If you liked what you've seen here today, you should check us out online at www.rackedout.ca. Come say hello!