The cost of real estate is higher than ever, so what do you do when you've outgrown your space?  As opposed to moving into a larger facility, it's often in your best interest to optimize your existing space! You've worked hard to establish your presence in your community; why move when you can stay put? Using very narrow aisle (VNA) racking systems can save your facility from moving and ensure optimal use of floor space.
Very arrow aisle racking systems can be as narrow as 64″-78″, depending on the equipment used. Standard aisles typically span 108" to 144″, so several feet of space can be saved per aisle.
While switching to a very narrow aisle racking system can save space, it also requires considerations into how the warehouse will be used. For instance, it maintains a FIFO (first in, first out) inventory management system. Secondly, VNA requires specialized lift trucks instead of standard forklifts. With many factors to consider, it's important to consult a team of experts and learn which racking system is best for your facility.
You've Reached Maximum Storage Capacity, Now What?
Growing companies that maintain inventory in warehouses need to plan for what happens when they reach capacity. Whether you're at capacity currently or working towards full capacity, you need to develop a plan for how to expand and reduce growth constraints. There are two options to consider in this situation:
Move to a larger facility
High cost to move inventory, equipment, office furniture and people
Larger warehouse means higher overall rent/lease/utility costs
Interrupt your day-to-day operations\Uproot employees and regular customers
Optimize your current warehouse
Minimize employee and customer impact, continue business as usual
Maximize your racking and reduce your aisle widths by at least 40%
Invest in new, state-of-the-art equipment
Reduce carrying costs by improving your pick density
While there are times where it makes sense to move to a larger facility or purchase a secondary warehouse, optimizing your current space is often the best solution that limits negative impacts and reduces ongoing costs. While there may be many racking systems that can help optimize current warehouse space, very narrow aisles offer significant benefits.
Want more insights on warehouse pallet racking systems? Sign up for Racked Out's newsletter!
Why Install Very Narrow Aisle (VNA) Racking Systems?
Very narrow aisles enable warehouse owners the opportunity to significantly increase capacity and optimize the facility for better workflow. Of the many benefits, some of the most prominent include:
VNA nearly doubles storage potential by reducing aisle space to a minimum
VNA reduces wasted space by using the vertical height of a building up to 14 meters with man up capability available
All pallets are accessible to lift trucks for 100% selectivity; can pick cases at elevated levels with order picker truck
Offers high SKU counts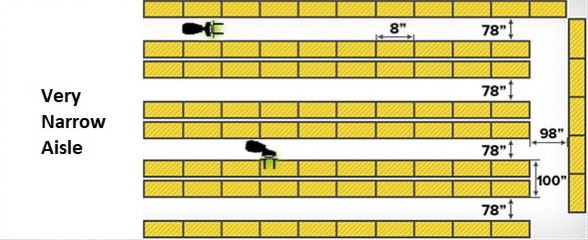 Other Space-Saving Racking Systems
There are also other racking configurations that can help maximize warehouse space.  These all depend on what is being stored in those racks, and if FIFO and single selective are requirements. Some popular options include:
Implications of Switching to Very Narrow Aisle Racking Systems
As with any change, switching to very narrow aisles needs to be well-managed.  With a VNA system comes new equipment, procedures and training.  People are often resistant to change, so it's important to discuss any and all changes with your "stakeholders", i.e. your warehouse staff, managers, and anyone else who will be impacted by a warehouse change.
If you'd like to discuss the growth potential for your warehouse if a very narrow aisle racking system is installed, please contact Racked Out. Our professional team can consult your project and manage the transition each step of the way.