2020 has been a very difficult year for all of us. Some of us have lost our jobs, lost our homes, and even lost our lives because of COVID-19.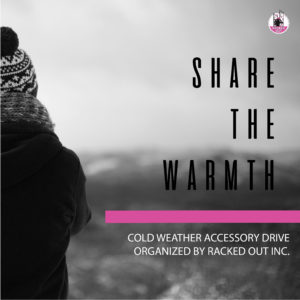 Some of us have been luckier than others and have kept our jobs and stayed healthy. All of us at Racked Out know how lucky we've been to be able to keep our jobs, which is exactly why we want to give back to those less fortunate.
For those that have lost their homes and have been forced onto the streets, and for those that have been on the streets for years; we want to help you.
During this winter season, we will be collecting donations of cold weather accessories which will then be donated to a local homeless shelter.
Examples of donations include:
Hats (Toques, beanies, ear muffs, etc.)
Scarves
Mittens + Gloves
Winter Coats
Anything else you think someone may be in need of
If you have lightly used hats and mittens laying around the house, please consider giving them to someone in need this winter.
If you're interested in making a donation, please contact us via our social media accounts, or email morgan@rackedout.ca to arrange a safe drop-off to our office.
Thank you for helping us share the warmth this winter.